Re-launching Literably for the 2022-2023 School Year Follow
Overview: Below are a few action steps and resources to review before you start using Literably this school year. This information is geared towards school/districts that used Literably in previous years; however, some of this information will also be useful for schools/districts that are using Literably for the first time this school year.
Action Steps
1. Rostering: Literably is ready to accept new rostering data for the 2022-2023 school year. Please review this article for the different rostering options and appropriate next steps to ensure your accounts and teacher dashboards are ready for the first assessment round.
2. "Safelist" Literably: If you haven't already done so, please have your IT department safelist Literably (see Safelist here). If Literably is not safelisted, your students' assessments may not upload properly.
We also have an IT checklist

that we highly recommend you and your IT department review.
Important Information about iboss: If your district uses iboss for network filtering, we recommend that you contact iboss support directly (

at

877-742-6832 X3 or support.na@ibosscloud.com) to make sure that assessments are uploaded directly to Literably, rather than going through iboss's upload filters.
3. Communicate your Literably launch to your staff and students so they know how to log into Literably, where to go for questions, and what your expectations are. We have a number of customizable email templates and resources to help with this type of communication.
Communication Materials:

Note:

please feel free to direct teachers to

The Literably Help Center

or support@literably.com if they have questions about Literably.

How to administer Literably:
Spotlight on Reassessment
Have questions about how many times to reassess students during each round? The flowchart below is a helpful way to think through decisions about reassessment. More details on this topic and our reassessment FAQ can be found here.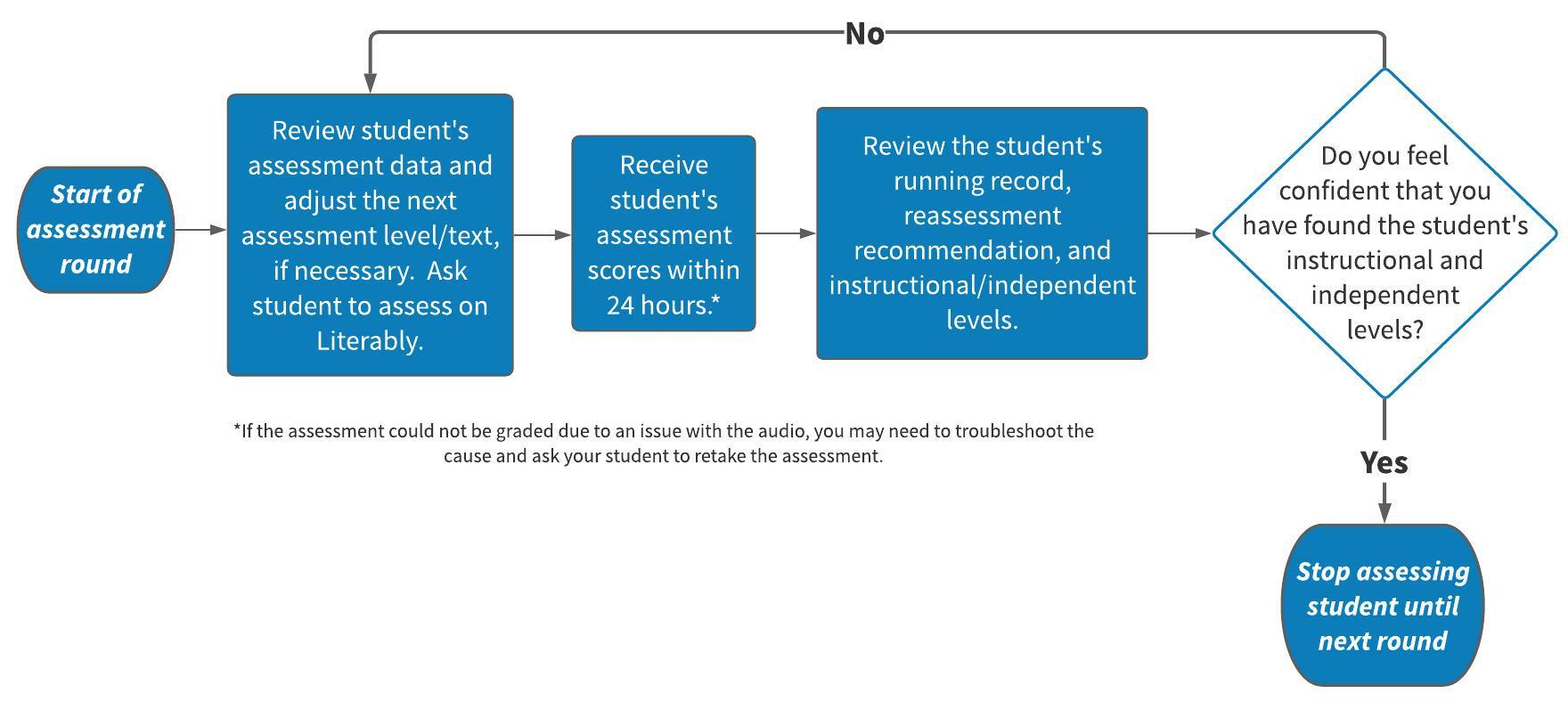 Other Resources
Need a new or refresher Literably training? Check out our training resources here.
Need a quick guide for logging into and assessing on Literably? Download one of the four new one-pagers attached at the bottom of this page for screenshots and directions, according to your district/school's login method for students.
Need a refresher on how to interpret your Literably dashboard and results? Review the articles below:
Are you planning ahead for your data needs? Check out the resources below:
Lastly, take a look at our new Literably Blog.
Download a "Logging In" One-Pager Below: