Recently Added Assessment Features Follow
The following updates have recently been made to the Literably teacher and student experience.
Winter 2023 Updates:
1. Enhanced Literably teacher dashboard
The Literably teacher dashboard has been updated to make it easier for teachers to find their data and set up students to assess. You can see a description of the changes and download a 1-page overview here.
More specifically, on the right side of your Literably dashboard, staff can now:
Assign assessments, set student grades, and print results for groups of students (or all their students)
View and change the assessment type, genre, and language for any of their students
See if a teacher assigned their students' most recent assessment, instead of using Literably's recommended assessment
2. Teacher-built custom phonics and phonological awareness assessments now available
If your district or school is using phonics or phonological awareness as part of Literably's FS assessment, staff now have the option to select from over 300 individual FS skills to create a custom 5-20 question assessment, designed specifically for each of their students. See a video here.
With this in place, staff can:
Have students take super quick assessments (5 minutes or less) on the skills they care most about
Leverage the FS assessment more powerfully for progress monitoring, as well as general screening needs
Create a nearly infinite number of unique assessments for any of their students
3. High Frequency Word Lists
Teachers now have access to high frequency word lists for kindergarten-level texts using the Word Frequency tool described here, which can be leveraged to look up the words that appear most frequently in Literably's A-D texts, as well as the texts that contain words with certain phonics features (such as the "sh" pattern, for example):
4. Updates to the Comprehension Tracker color-coding system.
The Comprehension Tracker is now color-coded according to a 4-color system (instead of 3 colors previously):
Blue = 75-100%
Green = 50-75%
Orange = 25-50%
Red = 0-25%
Fall 2022 Updates:
1. New Literably Teacher Dashboard
The Literably teacher dashboard now has a new look:
The columns are wider, making the data easier to read.
The reassess recommendation is indicated by a circular arrow () next to the student's name, rather than in its own column.
The asterisk (*) that indicates an estimated instructional level is now displayed as a star.
Teachers who have access to Literably in both English and Spanish can toggle results between the two languages from the dashboard.
2. Literably's Online Literacy Platform
In addition to the Oral Reading Fluency (ORF) Assessment, Literably now offers a suite of assessments, in both English and Spanish:
Please note that RAN is currently in beta testing. For more information about adding additional assessment options to your Literably plan, please contact your customer success manager.
3. Literably Spotlight Emails
District and school admins in Literably now receive a monthly Literably Spotlight email that highlights data related to how many students have used Literably at your district or school, how many assessments have been submitted, and the number of instructional hours/days saved through Literably assessments:
4. Version 1.3.2 of the Literably iPad app was released on 9/1/2022.
Spring 2022 Updates:
1. Students can now assess on iPads using the Safari app.
In addition to using the Literably iPad app, students can now also take the oral reading fluency assessment using the Safari browser app:

After opening the Safari app, students can navigate to literably.com/login and log into their student account in the way that they typically would. They can then record their reading and complete the assessment in Safari.
This may be useful for districts/schools that are restricted from installing the Literably iPad app onto their devices.
2. TEKS Standards Alignment
Districts/schools using the Texas Essential Knowledge and Skills (TEKS) standards now have the option of turning on TEKS correlations for Literably's multiple-choice comprehension questions. This will allow the comprehension tracker to display TEKS standards rather than the CCSS standards. For more information, please see section #2 here.
Winter 2022 Updates:
1. Changes to the "Start" Button
The "Start" button (to record) is no longer displayed on the student assessment interface once the student has done both of the following:
a) The student has completed a recording of their reading and did not receive a pop-up message saying the recording was too short or had a microphone issue. In other words, the student has completed a full recording.
b) The student has moved to the comprehension questions by clicking the "Comprehension" button after finishing their recording.
At this point, if the student returns to the text, they will see only the playback button: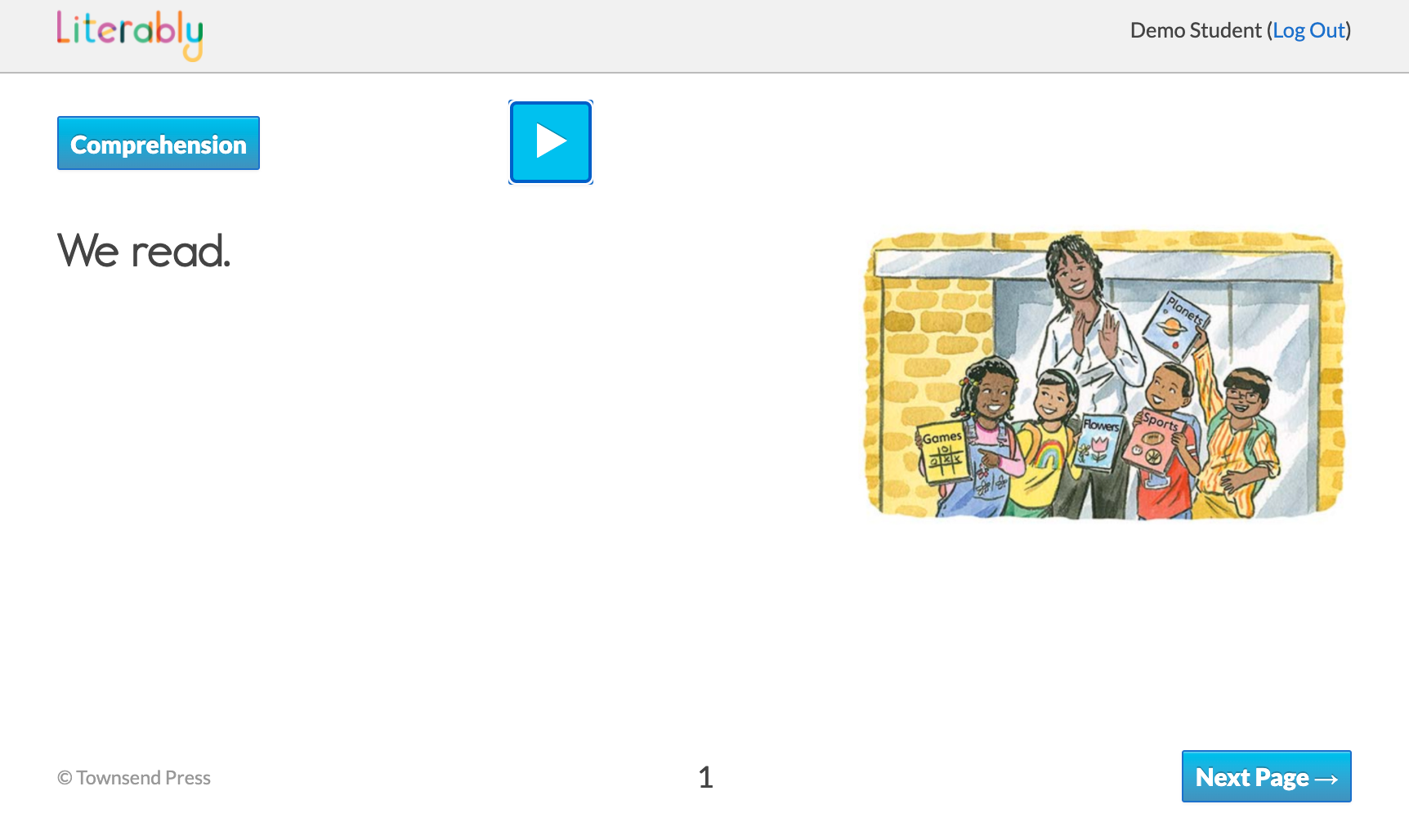 This reduces potential confusion for the student and prevents them from re-recording their reading once they have already completed a full recording and moved on to the comprehension section of the assessment.
2. Enhancements to the Comprehension Tracker
Admin Access: When a district or school admin is viewing a specific teacher's dashboard, clicking on the purple waffle icon in the top-right corner of the dashboard will allow the admin to view the comprehension tracker for that teacher's class.
Directions:
a) Click on a teacher's name at the bottom of your admin dashboard:

b) Click on the "purple waffle" icon:
c) You will then see a summary of comprehension data for all students in that class:
This feature allows admins to spot trends in comprehension data by classroom, in the same way that teachers are able to do from their own dashboards.
Assessment history page: Teachers can now also the comprehension tracker for their entire class by clicking on the "View Class Comprehension Report" link in the comprehension section of the Assessment History page.

Fall 2021 Updates:
Version 1.2.6 of the Literably iPad app was released on 11/29/2021.
Version 1.2.5 of the Literably iPad app was released on 10/12/2021.
Version 1.2.4 of the Literably iPad app was released on 8/16/2021 and supports auto-rotation to align with attached keyboards.
This feature works with texts at levels A-P, not Q-Z (which display in portrait mode).
Once a student logs into Literably, the screen will auto-rotate until the student presses the "Start" button to record.
After the student begins recording, the screen will no longer auto-rotate for the remainder of the assessment, in order to minimize distractions.
Spring 2021 Updates:
May 24, 2021: Version 1.2.3 of the Literably iPad app is now available in the App Store. This version pushes out the changes described in 1 & 2 below in the iPad app.
1. Assessments will not be graded if a student does not complete all 5 multiple-choice (MC) comprehension questions.
If a student does not complete all 5 multiple-choice comprehension questions, Literably will label the assessment with the tag "Incomplete Comprehension," rather than grading the assessment and offering only the accuracy score and running record portion of the assessment. This prevents teachers from receiving graded assessments with 0/5 or partial comprehension scores due to students not completing this section or accidentally skipping questions, which can be a misleading representation of how the student performed.
When viewing your students' scores on their assessment history page (see screenshot below):
A 0/5 comprehension score indicates that the student answered all 5 multiple choice comprehension questions, but answered 0 questions correctly.
The words "Incomplete Comprehension" next to the assessment indicates that the student left 1 or more multiple-choice comprehension responses blank, and Literably thus did not grade the assessment.
2. "Next" button now required in the comprehension section.
In the comprehension section of the student assessment, a "Next" button (which looks like a "forward" arrow) will not appear until students select an answer to the multiple-choice question (this prevents students from accidentally skipping questions):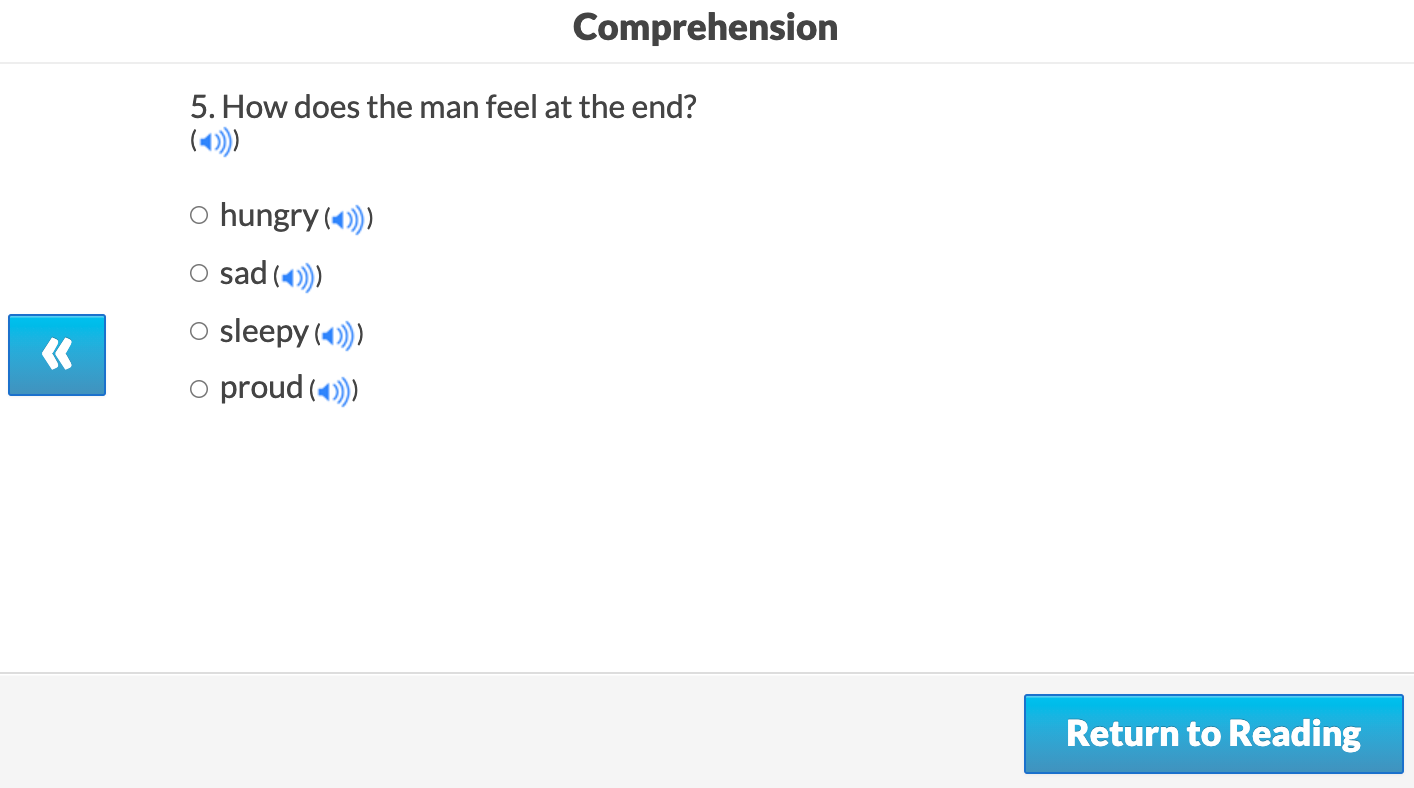 Selecting an answer will no longer move students immediately to the next question. Instead, selecting an answer will make the Next button appear, and students can then click on the button to move to the next question: